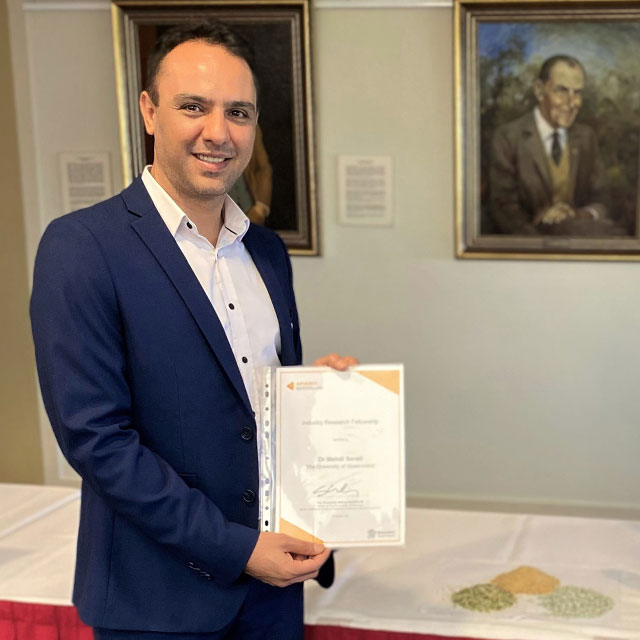 A research project aimed at developing a cost-effective and eco-friendly alternative to sand in construction material has earned Dr Mehdi Serati an Advance Queensland Industry Research Fellowship.
Dr Serati, from The University of Queensland's School of Civil Engineering, is leading research into the reuse of crushed glass waste in shotcrete (sprayed concrete) for mining, excavation and tunnel construction to help reduce the industry's reliance on rapidly diminishing stores of natural sand.
"The reality is we are running out of sand suitable for construction on a global scale – the widespread use of sand in today's industries has made it the second-most consumed resource on earth after freshwater," he said.
"That's why we need an alternative solution like crushed glass waste which has a very similar chemical composition as sand and is 100 per cent reusable.
"Nearly 1.2 million tonnes of waste glass is stockpiled annually in Australia, with Brisbane producing more than 30,000 tonnes per annum, so this project is also about finding a local use for waste glass that would otherwise go to landfill."
Dr Serati's research, supported by industry partners Aurecon, GCP Applied Technologies, Enviro Sand, GHD and Hanson, explores the use of crushed glass waste – including the bottles and glassware typically seen in suburban recycling bins – as a synthetic aggregate in sustainable shotcrete production for use in mining tunnels and underground support structures.
Thanks to the Advance Queensland Industry Research Fellowship, which includes $360,000 in funding, the research project will reach new heights with large scale field trials to assess the key processes controlling the behaviour of synthetic/composite glass aggregates when used in shotcrete mixes.
Additionally, the knowledge generated from the research is expected to be immediately applicable to other engineering problems in solid waste recycling where the waste could be treated as a granular material.
The Advance Queensland Industry Research Fellowship supports scientists to carry out original research that benefits Queensland while also partnering with industry.