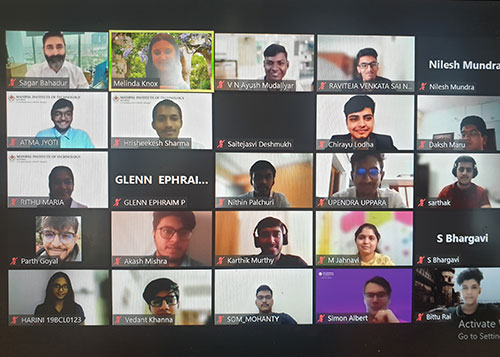 Last month, the EAIT Faculty International team, together with key academics from the School of Civil Engineering wrapped up the UQ Engineering Design Challenge 2021: Flood Resilience in India. 
The Challenge was an exclusive event for UQ partner universities in India to participate in and asked students to develop a design concept that would improve the flood resilience of their home town, city or community.
21 student teams competed in the two-week challenge, putting forward some amazing ideas on how to improve emergency preparedness and disaster management in their communities in India. 
Vellore Institute of Technology (VIT) took out first place with their idea, an integrated drainage and diversion system for the city of Chennai to tackle urban flooding.
Program lead and judge, Dr Matt Mason from UQ's School of Civil Engineering said it was great to see the broad range of design solutions that students came up with during the Challenge. 
"Solutions ranged from the smaller design, such as testing new porous road surfaces, to large scale solutions, such as revegetating and de-silting large lengths of India's most flood-prone rivers.
"I was also impressed at the way almost all teams went beyond the call of designing for flood resilience and embedded ways to capture and store flood waters to assist during times of drought. This wasn't expected but showed the teams had thought very deeply about their design proposals and found some very innovative ways to ensure they were of long-term benefit to the communities in which they were proposed," he said.
The Faculty International team are looking forward to running this program again in 2022.
Partnering universities involved in the Challenge, include: 
•    Vellore Institute of Technology (VIT) - WINNER
•    BITS, Pilani
•    Manipal Academy of Higher Education (MAHE)
•    Manipal Institute of Technology (MIT) 
•    NMIMS
•    SRM Institute of Science and Technology
•    Kalinga Institute of Industrial Technology (KIIT)
•    Thapar Institute of Engineering and Technology
•    Amity University, Noida
•    University of Petroleum and Energy Studies (UPES)
School of Civil Engineering staff involved in the Challenge, include: 
•    Dr Mathew Mason
•    Dr Simon Albert
•    Dr Ananth Wuppukondur
•    Prof. Hubert Chanson
•    Dr David Lange
•    Prof. Tom Baldock
•    Dr Alistair Grinham