Research modelling coastal erosion on Bribie Island has won a University of Queensland civil engineering student the prestigious D.N Foster Award.
Verity Taylor and her supervisor Dr David Callaghan used an Evolutionary Shoreline Model to look at the coastal erosion and accretion on the Queensland island's coastline.
"This particular model has a number of advantages when it comes to analysing coastal processes," Verity said.
She said it allowed researchers to analyse short and long-term processes, while taking headlands and seawalls into account, as well as long-shore and cross-shore sediment movement.
"This is useful because at the northern end of the island there are areas of very thin coastline – with climate change and rising sea level, these thin areas of Bribie Island could potentially break through into Pumicestone Passage.
"A breakthrough of Bribie Island's northern end would split the island in two, removing some of the national forest along with the flora and fauna that inhabit it, as well as perhaps making it even more prone to erosion."
Ms Taylor hoped her work would assist local councils to develop short and long term coastal management strategies.
"It may also help increase awareness on potential issues in the area surrounding climate change, and changes in landscape that may occur around Bribie Island as a result," she said.
"It is important to realise the changes that may affect Golden Beach early so appropriate measures can be put in place to minimise any damage to infrastructure and properties."
Ms Taylor is working with Dr Callaghan and Professor Tom Baldock as part of an ARC Linkage Application with Sunshine Coast Regional Council.
"The question of over-wash leading to loss of vegetation and barrier breakthrough under a changing climate is one live issue," Dr Callaghan said.
"The morphological modelling Verity is undertaking provides an approach to assessing shoreline evolution and potential barrier breakthrough that is likely under sea-level rise."
Ms Taylor said she was delighted to receive the award from the National Committee on Coastal and Ocean Engineering within the industry body Engineers Australia, and she hoped it would help her to create an impactful career in coastal engineering.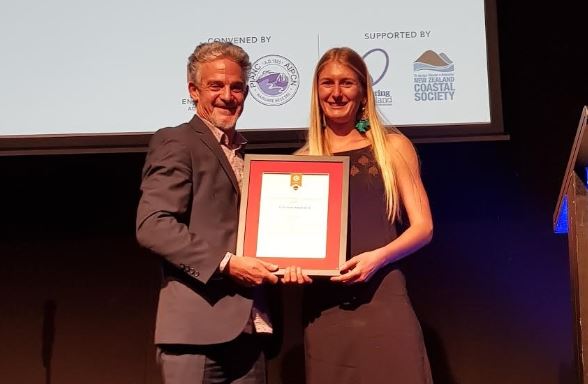 Media: UQ Communications, Genevieve Worrell, g.worrell@uq.edu.au, +61 408 432 213.