Two recognised University of Queensland researchers have been named as Fellows of the Australian Academy of Technology and Engineering.
Professor Neena Mitter and Professor Chien Ming Wang are among 25 leaders in applying science, technology and engineering to solve real-world problems elected to one of Australia's learned academies.
UQ Vice-Chancellor and President Professor Peter Høj AC said that as ATSE Fellows, Professor Mitter and Professor Wang had joined some the country's most influential innovators.
"These two new Academy Fellows are elected on the basis of their expertise and translation of deep research into real-world outcomes," Professor Høj said.
"Professor Mitter is internationally recognised for developing BioClay – a revolutionary environmentally sustainable alternative to chemicals and pesticides for crop protection.
"She's also developed a stem-cell multiplication technique for avocado production to address the critical shortage of plant supply.
"Professor Wang is considered one of the best civil engineers in the world –  ranking among the best in the latest Stanford University Worldwide Survey.
"He has almost 600 publications and more than 16,000 citations to his name and is well known for his work in offshore engineering and floating structures on a scale large enough to support urban populations."
Professor Mitter, Director of the new ARC Industrial Research Transformation Hub on Sustainable Crop Protection, said she was honoured to be named a Fellow.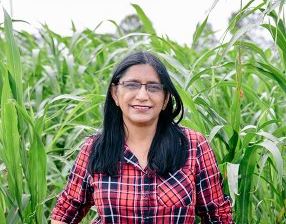 "I am passionate about delivering outcomes that enhance agricultural productivity in strong partnership with industry," Professor Mitter said.
"Along with a wonderful team of staff and students, I am focused on developing clean technologies for the agriculture of tomorrow.
"I am looking forward to contributions to the Academy through development of ecologically sustainable ag-tech solutions towards food and nutritional security and championing gender and cultural diversity in the workplace."
UQ Faculty of Engineering, Architecture and Information Technology's Professor Wang said he was deeply honoured to be elected a Fellow to the prestigious Australian Academy of Technology and Engineering.
"In the next few years, my research team and I hope to develop cost-effective proposals for floating breakwater and windbreak structures to protect fragile shorelines and coastal infrastructure from severe storms unleashed by climate change.
"We're also looking at offshore fish farms that will keep fish healthy, growing well and safe in a high-energy offshore environment."
The new Fellows will be formally welcomed into the Academy at an event in Melbourne on 29 November.
MEDIA: UQ Communications, communications@uq.edu.au, 07 3365 1120.