Icarus project: Green building design - assessing passive ventilation potential
Mentor:
Project Team: 
Ashleigh Hess
Roya Khodabandehloo
Carissa Pickering
Lachlan Aspinall
Monica Contreras
Project Brief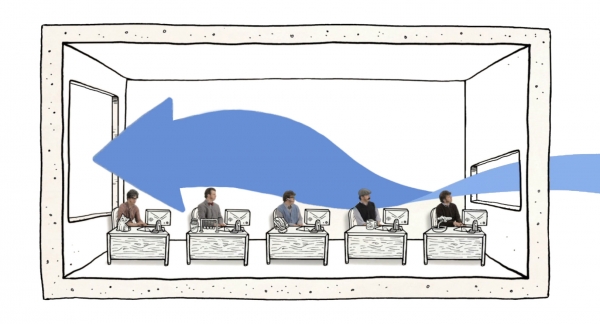 Passive cooling, the ability to cool a building through design and material elements, has been seen as an essential component of modern green building design, due to its ability to replace or reduce the use of energy-intensive cooling systems. Students on this project will work with Deputy Head of School and Chair of Hydrology, David Lockington, to quantify the potential of these technologies, both in terms of impact on building energy usage and the extent to which they might be incorporated across the building industry.
Project Report
Throughout this project, the team successfully gathered both wind speed and temperature data in and around the Advanced Engineering Building (AEB) and Global Change Institute (GCI) to assess the ventilation potential. This prompted the creation of temperature profiles for the AEB and GCI to determine the possibility of stack ventilation. Wind speed data was gathered from UQ Lakes, Field 3 and points surrounding the AEB and compared to data gathered from the GPEM weather station at UQ. It was concluded that the stack effect was negligible, with cross ventilation due to the canyon effect and cooling effects of water bodies being much more successful at passively cooling structures. The observations made in this project have provided a vital foundation for planning the deployment of monitoring instruments for the next phase of this project, where a building performance research group from the University College London will partner with UQ in studying how the AEB and GCI perform, along with other buildings worldwide.