UQ Fire is a leading researcher in this area and is actively working to provide knowledge on the potential of bamboo as structural material and its fire performance.
Similar to timber, bamboo as a construction material has many appealing characteristics, ranging from its ability to sequester carbon during growth and store it for the life of the building, its relatively high strength-to-weight ratio, ease of prefabrication, and high aesthetic value.
UQ Fire research projects on bamboo include:
'Material Characterization and Fire Performance Assessment of Bamboo' led by Angela Solarte (PhD).
'Structural Fire Performance of Modern Bamboo Structures' led by Mateo Gutierrez (PhD).
'The Thermal Response of Laminated Bamboo under a Range of Incident Heat Fluxes' led by Ian Pope (PhD).
Despite its considerable strength and potential as a highly sustainable construction material, bamboo is currently restricted by a lack of understanding surrounding its performance under fire conditions, as well as significant gaps in the applicability of current standards to the design of bamboo structures. The aim of this research project is to measure the in-depth temperature rise and behaviour of laminated bamboo under a variety of fire conditions, and to develop models to predict this performance for design purposes.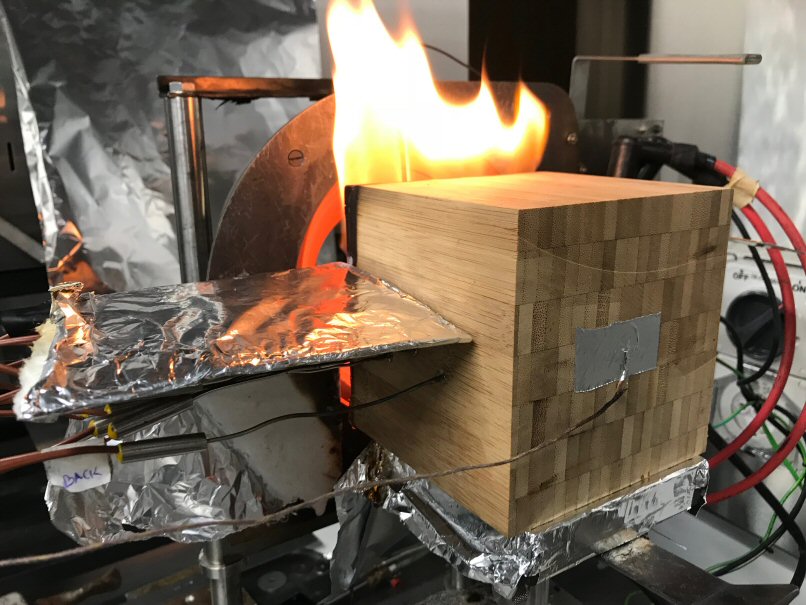 'Mechanical properties of bamboo at elevated temperature' recently completed in 2017 Joshua Madden (BE-ME).