Wind engineering research
Wind Research Laboratory (WiRL) is comprised of atmospheric scientists and engineers that conduct specialised, interdisciplinary research in the following areas:
Catastrophe loss modelling
Post-storm damage assessments
Severe convective thunderstorms (e.g. downbursts and tornadoes)
Tropical cyclones
Wind engineering
Wind tunnel research
Bluff body (building) aerodynamics
Current projects
2. Storm Reports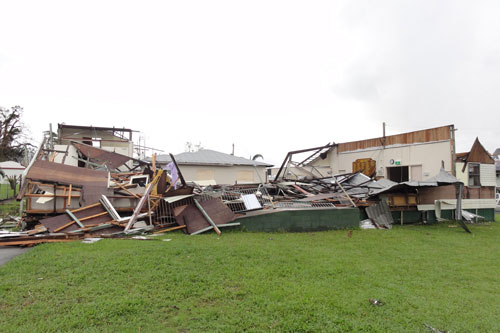 When severe wind events (cyclones, thunderstorms, tornadoes) results in damage to structures, WiRL conducts post-event survey work to learn more about the fundamental nature of the near-surface wind fields that have occurred, and also to understand why/how structures failed. Below are links to survey reports that WiRL has participated in:
Brisbane hailstorm: 27 November 2014
Fernvale supercell: 27 October 2015
Sydney tornado and outflow: 16 December 2015
Tropical Cyclone Debbie: 2017 (CTS Report; WiRL Report)
Funding for storm report survey work comes from a number of sources and is often undertaken in collaboration with researchers from other institutions.