The University of Queensland has become home to a very special tiny house, constructed using an experimental technique developed by researchers from the ARC Future Timber Hub.
The timber building, complete with floors, walls and a roof, was erected in under seven hours and showcases '3E panels'.
These specialised thin, lightweight panels are made from a hybrid fibre reinforced polymer (FRP)-timber, invented by UQ civil engineering researcher, Associate Professor Dilum Fernando, and his team, including partners at the Queensland State Government Department of Agriculture and Fisheries and Hong Kong Polytechnic University.
The panels slot together to create an environmentally friendly construction alternative that is the strongest system of its kind.
Associate Professor Fernando said the research team wanted to demonstrate how fast and easy it was to build a house using 3E panels.
"The unique connection system we have invented to use with the 3E panels in buildings like the tiny house is really the key to fast assembly," he said.
And the best bit? No heavy machinery or special skills required.
"The whole house was built by students and myself, without any prior hands on experience on house construction."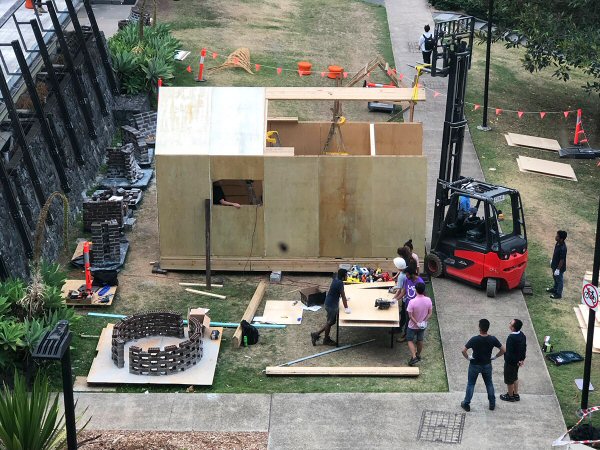 As the 3E panels are engineered to be a high-quality, high-performance product, researchers used the build test to prove the ability of 3E panels to act as structural members.
They also demonstrated a quick-build, low-cost, complete pre-fabrication construction system that could be ideal for low-cost housing with community-based construction, where anyone could be involved in building homes, no matter their skill level.
The system could include insulation, weather proofing membranes, and finishes attached at the factory and assembled on-site, turning a tiny house into a tiny home.
UQ's Tiny House will be on display until the end of February 2020 near the Advanced Engineering Building and UQ Lakes. Find out more from the ARC Future Timber Hub.