The inventor of a revolutionary bridge system and the team behind the Disability Inclusion Group (DIG) are among the winners in The University of Queensland 2019 Awards for Excellence.
The annual awards acknowledge and celebrate the achievements that reflect and support the University's pursuit of excellence, to positively influence society.
UQ Chief Human Resources Officer Dr Al Jury said a diverse range of staff have been recognised for their outstanding contribution.
"These awards highlight the integrity, creativity and professionalism of our staff," he said.
"I congratulate all the nominees for their innovative work and exemplary leadership, all of which are a credit to the University."
Dr Jury said there were a record 121 nominations this year, to the delight of the Awards Selection Panel.
"It's always difficult to select winners from such high-calibre nominations."
Associate Professor Dilum Fernando was the winner of the Excellence in Innovation Award, after leading a team to invent the novel double-skin tubular arch (DSTA) bridge system, which was awarded the BERD-FEUP Prize for World Innovation in Bridge Engineering.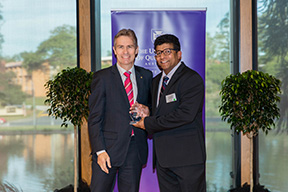 The DSTA bridge has the potential to reduce major bridge works projects from months or even years to just three days saving time, money and inconvenience.
The new bridge design can be prefabricated, transported on a semi-trailer and erected without the need for specialised heavy lifting equipment overcame many challenges.
A case study demonstrated that building a railway bridge overpass in Brisbane using this technology would take just 78 hours and save $120 million over the traditional build cost.
Excellence in Innovation award winners:
Associate Professor Dilum Fernando, School of Civil Engineering. Dr Fernando is the lead inventor of the double-skin tubular arch bridge system, which has the potential to reduce major bridge work projects to just three days.
RDM iDMP-IV Fast-track team. The collaboration between Library, Information Technology Services, Pro-Vice-Chancellor Research Infrastructure and UQ Research Data Manager delivered a cost-efficient, streamlined and integrated research data management program.
Excellence in Service award winners:
Scott Tucker, Facilities and Operations Manager at Faculty of Business, Economics and Law. Mr Tucker fosters a culture of collaboration and communication, and engages positively across a range of initiatives designed to address issues with infrastructure, space and resourcing.
Office of Sponsored Research Fellowships team. The team works with our research community to enhance the competitiveness of UQ's research Fellowship applications and nominations for major prizes and awards.
Excellence in Community, Diversity and Inclusion award winners:
Professor Helen Ross, School of Agriculture and Food Sciences. Professor Ross has been a driver of equity and diversity in Science and previous faculties since the early 2000s. She is also a champion of Indigenous recognition and inclusion.
Disability Inclusion Group. The Group has delivered numerous programs and actions to dismantle physical, technological and culture barriers for students and staff with disability since it was formed in 2017.
UQ Reconciliation Action Plan. The RAP encompasses the working group, steering committee and UQ community who have contributed to the development, launch and implementation of the RAP, which builds a framework for UQ to establish and strengthen respectful relationships and opportunities between Aboriginal, Torres Strait Islander and non-Indigenous people.
Excellence in Mental and Physical Health, Safety and Wellness award winner:
Sexual Misconduct Support Unit. The unit has responsibility for response, support and prevention activities around sexual assault and sexual misconduct, and established the First Responder Network.
Excellence in Leadership award winners:
Marni Jacoby, Faculty Executive Manager, Faculty of Medicine. Ms Jacoby has overseen a reinvigorated staff culture that led to staff re-engagement. She inspires and encourages staff to strive for excellence.
Spinifex Nanocellulose Pilot Plant Team at Long Pocket. The team has produced Australia's first and largest nanocellulose production facility which has produced hundreds of kilograms of quality-assured product leading to many successful customer trials.
The selection panel included Vice Chancellor and President, Professor Peter Høj AC, EAIT Executive Dean Professor Vicki Chen, Pro-Vice-Chancellor (Indigenous Engagement) Professor Bronwyn Fredericks, Chief Human Resources Officer, Dr Al Jury and Director of Student Affairs, Andrew Lee. You can find out more about the awards and winners here.